Beauty & Self
Books & Music
Career
Computers
Education
Family
Food & Wine
Health & Fitness
Hobbies & Crafts
Home & Garden
Money
News & Politics
Relationships
Religion & Spirituality
Sports
Travel & Culture
TV & Movies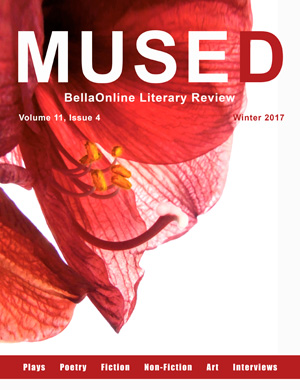 We all travel on this blue-green ball around our very own star each year, sliding a little closer, sliding a bit further away. The balance is critical. Too much closer and we'd roast. Too much further away and we'd freeze.

We should be aware of just how blessed we are that our Earth is "just right" - and do what we can to keep our world healthy. It's the only one we have.

Enjoy the Mused Winter Solstice 2017 Issue



Laundry Room Tips & Tricks
Cleaning - Tammy Judd, Editor

Laundry can be overwhelming to any of us. I have recently been conducting research to find ways to make doing and completing your laundry ever so much easier!




Sewing by the Yard
Sewing - Cheryl Ellex, Editor

What can be made with just one yard of fabric? Plenty! Think throw pillows for the couch, chair or bed, squares of fabric hemmed on all edges to softly drape over kitchen countertop appliances, or even a simple table or dresser scarf are just a few projects to consider and of course so much more.




I Love Tasty Cookbook Review
Quick Cooking - Karen Hancock, Editor

Those food videos that everybody posts to Facebook are captured in a delightful cookbook geared for busy cooks who want to get out of the kitchen fast. Fun!




Photoshop Elements 2018 Layers Panel
Digital Art and Design - Diane Cipollo, Editor

In this tutorial, we will learn how to use the Layers panel in Adobe Photoshop Elements. The Layers panel is one of the most important panels in PSE. It allows you to control and organize the design elements in your project.




Resources For Collectors
Stamps - Gary Eggleston, Editor

Stamp collecting is an enriching hobby because it has educational and cultural value. In about six months, you shall have learned about countries and special events, and a lot about the stamp collecting industry as well. You will probably meet a lot of interesting fellow collectors with whom you c




Pricing Your Coins
Coin Collecting - Gary Eggleston, Editor

This isnít always an easy question to answer since a coinís value can be subjective. In general, like anything else, a coin is "worth" what someone is willing to pay for it. There are some factors that potential buyers will take into consideration when deciding how much to pay for a coin. Some of


| Google+ |
E D I T O R R E C O M M E N D E D
God Underneath


Spiritual Memoirs of a Catholic Priest, By Edward L. Beck. Each chapter contains a scripture passage and personal tales revealing Godís presence in everyday life. Fr. Beck is a member of the Passionist community and travels throughout the country preaching and organizing retreats. I highly recommend this wonderful book and have personally attended several of Fr. Beckís inspiring parish missions.
Ultra Luster Waterless Car Wash


Ultra Luster Waterless Car Wash: Article Coming in Spring but you can buy it now! Waterless Car Washing just got easier and the results just got better! Get yours now at: UltraLuster Wash, Phone: 877-677-4463, Email: sales@ultralusterwash.com, distributors@ultralusterwash.com shipping@ultralusterwash.com customerservice@ultralusterwash.com
Low Carb - First Two Weeks


Get instant access to step by step instructions, handy tips to get you through the rough spots, background information on low carb dieting, and more.