Beauty & Self
Books & Music
Career
Computers
Education
Family
Food & Wine
Health & Fitness
Hobbies & Crafts
Home & Garden
Money
News & Politics
Relationships
Religion & Spirituality
Sports
Travel & Culture
TV & Movies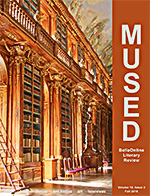 The autumn equinox, that balance point of light and dark, is closely tied to the moon. In China the Moon Festival happens around the autumn equinox, celebrating gratitude and the warmth of good friends and family. This year it was Sept 15th. Our last eclipse of 2016 was a penumbral lunar eclipse on Sept 16th. It fell in conjunction with the full harvest moon, also a symbol of thankfulness and appreciating those who care about you. The autumn equinox is a perfect time to add to those celebrations. It's a wonderful moment to treasure all we have and to share warmth with those who support us.

Autumn Equinox 2016 issue of Mused

Ghosts of Garnet, Montana
Paranormal - Deena Budd, Editor

Garnet, Montana was built as a temporary town for the miners flooding in from California and Colorado. Amazingly, over a century after it was created, there are still parts of the of the ghost town remaining. There are also many stories that past residents of the old town remain as well.




Bean Bags for Kids
Crafts for Kids - Launa Stout, Editor

All you need is some fleece and some beans! This could be a service project for cub scouts or girl scouts...It is always good to involve youth in service.




Astronomy Photographer of the Year 2016
Astronomy - Mona Evans, Editor

The Sun as you've never before seen it. A twilight aurora, lunar landscapes, and galaxies far far away. There's all that and more in the Insight Astronomy Photographer of the Year 2016 exhibition at the Royal Observatory Greenwich.




Pico de Gallo - Fresh Mexican Salsa
Mexican Food - Mickey Marquez, Editor

Fresh flavors and firm textures define this table condiment as one of Mexico's most common and versatile. It's earned a special place on tables throughout the nation and has universal appeal with a version for everyone. A hot food palate is not required to enjoy this salsa.




The Crossing Book Review
Suspense / Thriller Books - Karen Hancock, Editor

Even though Harry Bosch is retired, his skills are in demand. This time, he crosses the line to work against the prosecution and help his half-brother, Mickey Haller, in the defense of a former gang member who has been framed for the brutal murder of a woman.




Finding the Perfect Winter Coat
Women's Fashion - LaTeisha Clément, Editor

A girl has only one thing to do when winter is approaching and her closet is full of not so warm clothing options: Shop for the perfect winter coat that will compliment her wardrobe and the wind chill factor.


| Google+ |
E D I T O R R E C O M M E N D E D
Pinnacle Car Care


The Creme De La Creme of Ultimate Car Care is In the House! Using Pinnacle´s product line is like a visit to the salon and the results--magnifique!
Mastering Essential Math Skills


This exercise book is an excellent resource to practice and review math skills you´ll need to establish a strong foundation and smooth transition into Algebra and other higher math courses. Workbooks are available for 4th – 5th grade and middle school / high school.