Beauty & Self
Books & Music
Career
Computers
Education
Family
Food & Wine
Health & Fitness
Hobbies & Crafts
Home & Garden
Money
News & Politics
Relationships
Religion & Spirituality
Sports
Travel & Culture
TV & Movies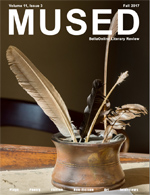 Autumn is a season for counting our blessings. For realizing just how much we have in life where so many others are without. It can often be easy to take things for granted. Things which millions of people desperately dream of having. By pausing for a moment, and looking around with mindfulness, we can find a new center. Begin with fresh energy.

Enjoy the Mused Autumn Equinox 2017 Issue



Gardening Kits as Holiday Gifts
Landscaping - Connie Krochmal, Editor

When it comes to gift ideas for gardeners, gardening kits are always a great choice. There is one to fit every budget and interest.




Arriving in MKU, Madurai
Romantic Getaways - Marianne de Nazareth, Editor

Arriving in Madurai is always a pleasure




Chocolate Peppermint Cheesecake Recipe
Chocolate - Brandii Lacey, Editor

Rich chocolate plus peppermint provides a tasty twist on a common cheesecake recipe.




INTERVIEW Joy V Smith
SF/Fantasy Books - Evelyn Rainey, Editor

Interview with Science Fiction author Joy V. Smith.




QUIZ: Are You A Hypochondriac?
Body Care - BB Lee, Editor

Fall signals the beginning of the cold and flu season, but if every cough, sneeze, pain, or headache sends you running to your doctor's office, you might suffer with an Illness anxiety disorder.




Expect a Blessing
Baptist - Celestine A. Gatley, Editor

Have you every prayed and prayed for God to answer your prayer, but it seems as if the day never came or it didn't come quick enough? Sometimes all it takes is to understand who you are and the God that we serve.


| Google+ |
E D I T O R R E C O M M E N D E D
LoMásTv


Highly recommended product, if you really want to improve your Spanish. While watching the video you have the option to read, in subtitles, the words in Spanish and, if you also chose it, you can read the translation (in English) for it. Simply... ¡Genial!
Giada´s Kitchen


In this book each recipe is a burst of taste, colors and combination of flavors; the instructions are really easy to follow for anyone, and the final result of virtually every dish is presented in a beautiful arrangement of photographs.
The Killer Angels by Michael Shaara


Best historical novel ever, and I don´t even like most historical novels. Epic and unforgettably intense! Among other things, reading this will teach you how to hook your readers through writing strong character emotion.